Frequently Asked Questions
How long does a metis® worktop usually last?
Our worktops are manufactured using the very latest techniques and carry a 10 year guarantee against manufacturing defects, however, they can quite easily last a lifetime.
Can I put a hot pot on a metis® worktop?
metis® worktops are highly heat resistant but we would still recommend that extreme heat is avoided. To prevent heat damage, always use a hot pad to protect your solid surface. Hot pans, as well as some heat generating appliances like frying pans, can damage the surface.
Are metis® worktops heat resistant?
Not totally, while very high and direct heat will damage most solid surface products, solid surface materials do not burn or combust. In most cases the worktop can be repaired. It's much better to take precautions from the outset, use mats etc to ensure your worktop retains its pristine finish.
What is the best way to clean a metis® worktop?
Just use regular soapy water for day to day cleaning. The use of a mild abrasive such as Cif Cream has a positive effect on the surface and will remove most minor marks that cannot be removed by soapy water.
What about my choice of colour, will some colours last longer than others?
Light colours do show less wear than a darker colour shade. It really does boil down to personal preference though.
Can a metis® worktop really be repaired?
Yes, it's true, a metis® worktop can be repaired. We would always advise our customers to maintain their worktops as recommended though.
Is this a Corian worktop?
No – Corian is a different product that is usually manufactured on a bespoke basis specifically for your installation. Therefore the cost will tend to be significantly higher than metis®.
metis® worktops are sold in pre-fabricated blanks of various lengths and widths.
Is the surface the same as Corian?
The metis® surface material is a blended acrylic sheet. Corian and a number of other sheet materials such as maia, LG Hi-Macs and Staron are 100% acrylic. All have very similar qualities in use and can be refurbished and repaired.
Do metis® produce a Corian worktop?
metis® manufactures a highly competitive range of worktops that offer all the benefits of a Corian worktop without the increased costs. A metis® work surface is designed to be appealing to the eye and offer total durability. As metis® is produced at 15mm thick it does not need to be fabricated as Corian worktops do – hence metis® is more affordable.
How does metis® compare to marble or granite worktops?
Marble and granite are often products that people aspire to having in their kitchens. Whilst being an impressive and hard wearing materials there are some drawbacks;
They can be quite porous and some liquids can stain the worksurface permanently.
If damaged or scratched the surface can be difficult or even impossible to repair satisfactorily.
The joints used in natural stone worktops are typically very visible and can be dirt traps.
Being natural materials it is not possible to guarantee the consistency of pattern or veining.*
The metis® option is a refreshing alternative – Low cost and high manufacturing standards coupled with four colour options to suit a vast array of kitchens. Whilst each joint is seamless and hygienic, there may be a visual difference when two worksurfaces are joined as the veining on each worksurface is unique. In the unlikely event that you need to repair one of the veined products it may be more difficult to match a repair or replacement piece later on. We would recommend therefore that offcuts (e.g from a hob or sink cut out) are kept safely to assist in any future repair situation.
Is a laminate worktop my best option?
Laminate worktops are probably the most affordable worktops available today. A wide range of decors, finishes and thicknesses generally offer something to suit most kitchen designs on a budget.
All surfaces will scratch to some degree and laminate is no different. If scratched or burnt there is no means of repairing them unlike metis®.
What is a solid wood worktop?
Solid wood worktops are usually made from strips (staves) of solid wood (many retailers sell beech worktops, oak worktops, bamboo worktops, wenge worktops, acacia worktops etc). Most have to be oiled before installation and regularly through the life of the product. They are repairable to a degree.
Downloads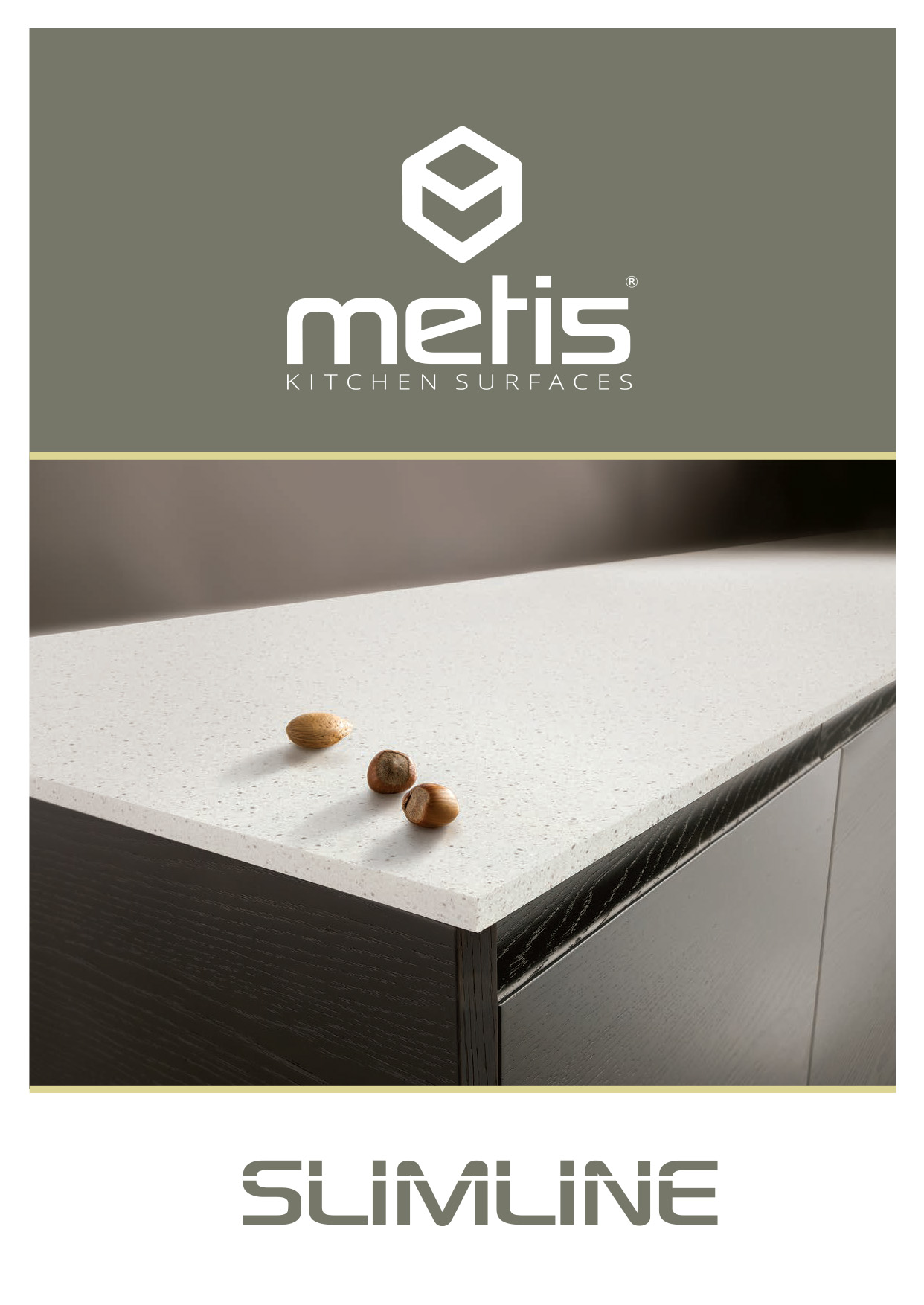 Grab a digital copy of our brochures to view our products and find out more about the benefits of metis